Provide your sales team with one interactive view. Drag and drop between deal stages. Save time, focus on high-value deals and close more deals.
Our intuitive drag-and-drop interface allows sales reps and managers to carry out their respective tasks easily, thus saving precious time that can be used to close more deals. The simple and intuitive Flexie layout ensures sales reps have a clear picture of deals and pipelines at all times, in one single place.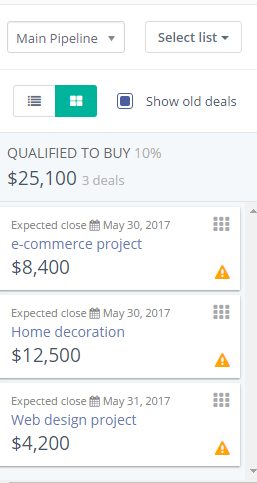 The more deals you have in your pipeline, the more efficiently you need to manage them. The drag and drop feature allows you to bring the deal to the stage you want right from the grid view, saving you the hassle of going to the deal's details and bringing it to the stage you want. This way you save time that you can use for other important tasks within your company.
By using the drag and drop feature, you can easily manage your deals – no matter how many you may have. The easy-to-use interface let's you move deals through stages with great ease. Once you drag and drop a specific deal to a stage, the change will also be visible in the admin's dashboard.

To stay updated with the latest features, news and how-to articles and videos, please join our group on Facebook, Flexie CRM Academy.